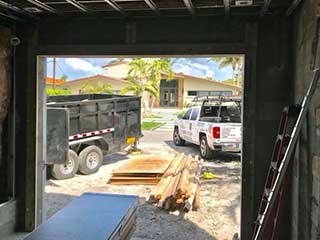 It is definitely worthwhile investing in an insulated overhead garage door. The big question is how to select the right one among the many different models available in the market. Some buyers think that it is sufficient to just check the R-value. This is important, but it's not the only thing you should consider.
Numbers, Designs And Materials
Naturally, the R-value is the primary measure to check. You have to watch out for two things here. Make sure that the R-values of the models you are comparing have been calculated in the same way. It is best if they are based on one and the same set of standards.
The next thing is to check the type of structure each value applies to. Some manufacturers offer a one door model in several different layer structures which have different R-values. The different structures also have an impact on the weight of the unit which may determine the choice of your garage door opener.
What is the U-Factor?
U-factor is also important to review when comparing different door models. It measures the amount of heat transmitted through one square foot of material at a temperature difference of 1 degree from one side to the other. This measure gives you a better idea of the effectiveness of the insulating material and the entire door structure. The lower the U-factor, the better the insulation of the garage door panels.
Layer Upon Layer
In general, it is beneficial to look into the layer construction separately for the purpose of evaluating the effectiveness of the door in blocking heat transfer. There are two options. 1) The two-layer construction has a sheet metal front with insulation backing. This works well, but the insulating material can be exposed to the damaging effects of the environment. 2) It comes with a triple layer design where the material is sandwiched between two layers of steel.
It is also worth pointing out that a decorative PVC overlay can add to the aesthetic of the unit, but its contribution to energy efficiency is minimal.
The Thicker The Better
You should look closely into the insulation material. The thicker it is, the better job it will do. The two main options include polyurethane and polystyrene. The first one tends to have a higher R-value for the same thickness, but there are differences between the individual products available in the market. Polyurethane is also more resistant to moisture damage and mold. Finally, no matter what type of insulated overhead door you select, you have to apply top, side, and bottom seals.