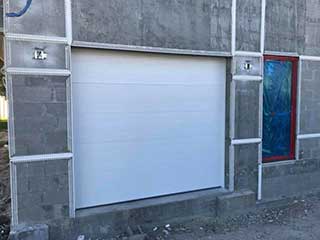 The overhead door system is easily one of the most complicated pieces of machinery in your home. It consists of many different electrical and mechanical parts, all of which must work together perfectly. This means there are plenty of different issues that can manifest over time, from bent tracks and frayed cablestoloose springs and more. Our technicians are highly experienced at fixing all of these, and can quickly identify the problem as well as the right solution for it. We guarantee fast, effective repairs and excellent customer service.
Common Opener Malfunctions
The opener is the "brain" of your automatic garage door, as well as its driving force; literally. It's the most complicated part of the system, and as such it can develop plenty of issues. Its circuit board can develop glitches, its safety sensors can become misaligned, and the motor gear, or the chain or belt that it uses can break or tear.These will result in various malfunctions, like a reversing door, or one that won't open. Whatever the case may be, our technicians will handle it. If we find that something is beyond repair, we'll simply replace it with a new part.
Worn Out Springs
The springs that support your door's weight only have a limited lifespan of a few thousand cycles. This means that it's not a question of if they'll wear out and break, but rather when. That's why it's important to watch for signs that your springs are weakening. Getting them replaced before they do snap is not just prudent, it's downright crucial, as a when a spring breaks it can seriously hurt anyone standing nearby. Spring replacement is no simple task, so you should avoid the risks and leave it up to our experts.
Problem With The Panels
The exterior part of your garage door is constantly exposed to the elements, so it's can be susceptible to a variety of issues. Wooden panels can warp, rot or even break, while steel ones can rust. When the damage is too severe, replacing the panels will be necessary. If you have a sectional garage door, then this is a very viable option. Our experts will help you find new panels of a matching color and design that will maintain your door's curb appeal. Then we'll perform the panel replacement and make sure your door is able to move smoothly afterwards.
Contact Us Today
If you need emergency repairs or just want to ask our experts a question, don't hesitate to call. Our team at Garage Door Repair Prior Lake is here to help you in whatever way we can.
We also offer:
Garage Door Safety Inspections
Liftmaster Garage Door Openers
Garage Door Cable Replacement
Overhead Door Repair & Installation