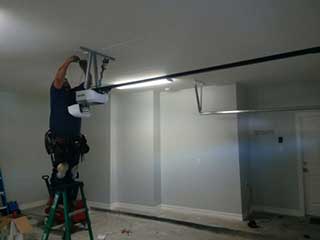 The opener is, in many ways, the most important part of your automatic garage door. It's by far the most complicated part of the whole system, and its condition is critical to the good performance of the door. Like any complex device, there are a lot of things that can go wrong with it, and it can be difficult for homeowners to identify the problem on their own. Our technicians have worked with every model of opener there is, and have found and fixed everything from faulty circuit boards to broken trolleys and motor gears.
Installing A New Model
A new garage door opener can be an excellent investment that will provide you with added convenience and enhance the security of your home. There are many different variants to choose from, though, which can be quite bewildering and overwhelming. Our experts canprovide the guidance you need to make a well-informed decision, and once you've picked out a new unit we'll perform the opener installation at your convenience.
Which Drive System Is Right For Me?
The biggest difference between opener models is the type of drive they're using. The chain drive, which is the most commonly used type, is cheap and reliable. However, it's also very noisy, which can be a problem, especially if you have an attached garage. Screw drive models are quieter and require much less maintenance, although they're more costly. Belt drives are even quieter, virtually silent even, and work very smoothly. However, they are usually the most expensive type as well.
Selecting The Right Features
In addition to choosing the type of drive that's right for you, there are also plenty of different smart features available to you. These range from apps like Chamberlain's "MyQ" or the Aladdin Connect which let you control the door remotely from your phone, to rolling code technology like the Genie Intellicode and the LiftMaster Security Plus that prevent thieves from hijackingyour remote control access codes.
Contact Us Today
If your opener needs to be repaired, or if you need a new unit to be installed, we can help. Contact Garage Door Repair Prior Lake today to arrange an appointment.
Count on us for:
Opener Sensor Replacement
Emergency Garage Door Repairs
Garage Door Troubleshooting Services
Galvanized Torsion Spring Installation